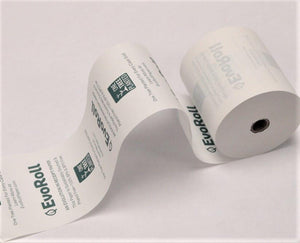 PHENOL FREE - EvoRoll Preprinted Phenol Free Paper
The best thermal paper made today for you, your staff, your customers and the environment.  We have also eliminated the plastic cores! We use recycled cardboard cores. 
Every case sold plants one tree with One Tree Planted: www.onetreeplanted.org
• 100% Phenol-free thermal Paper (BPA & BPS free) and all other "Bisphenol chemicals" 
• 100% Recyclable
• Sustainably Sourced paper from world leading FSC & PEFC certified pulp mill
Please call us at 1-877-855-3362 if you would like volume pricing on this new paper roll. Tiger Claw Supplies was the first company in Western Canada to offer Phenol Free thermal paper roll supplies. 
Please see the drop down menu for the sizes available in this product.
We can also customize the roll with your own company's logo and other information with a minimum order requirement.