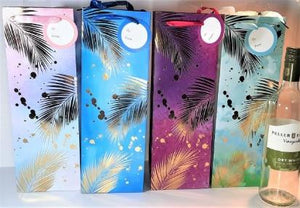 Wine Bottle Gift Bags- 4 pack assorted - 144 per case
We are always adding and updating the styles of gift bags we are offering our customers. Please check back frequently for more options. 
These gift bags are a gorgeous style and will sell quickly in your location.  J hook for display, UPC coded, 13.5" in height.  Wine bottle in image sows the neck of the bottle will not be above the rim of the bag. Most customers do not like the shorter cheaper bags for that reason.