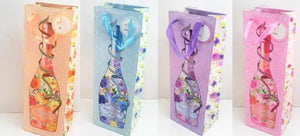 Gift Bags- Single Bottle Wine- "Summer" 4 mixed pack set - 144 bags per case
These are a great spring and summer bag for your customers. We all love the colours and the felling of summer and these bags are a fantastic choice for summer wine enjoyment. 
13.5" bags with J hook and UPC coding for easy resale.